Whoops.

I would like to take this opportunity to apologise unreservedly for any offense caused by my previous artist's rendering of Carl Franklin with Geoff Maciolek's hair.

My brain at the time was running wild. The nice doctor people have since talked to me, and explained the error of my ways. Illustrating their arguments with the use of diagrams and electrodes, they have demonstrated to me that I was wrong to do what I done.

In true ET re-release style, I have re-worked the offending image: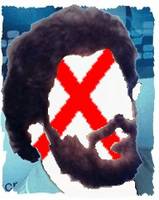 Sorry.